The Michigan Weavers Guild (MWG) is dedicated to encouraging excellence, inspiring creativity, and preserving fiber traditions by providing forums for the education of handweavers, handspinners, basketmakers, and fiber artists in related disciplines.
Established in 1947, We are now in our 66th year.  We are affiliated with the
Michigan League of Handweavers
and with the Handweavers Guild of America
Announcements
April 16, 2016 Program 
Bobbie Irwin, Transparency Weaving, presentation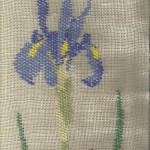 Using a variety of inlay techniques, you can create pictorial patterns on an open-weave background. Transparencies have the pattern diversity of tapestry, but are easier, faster, and more economical. A transparency's interaction with light gives added dimension. For inspiration and design tips, we'll study transparencies from numerous weavers. Although traditional transparencies are woven on linen, you'll also see examples of unorthodox materials and methods, including the use of monofilament nylon for 3-dimensional effects. You can even use wool to make practical, wearable scarves and shawls!