The Michigan Weavers Guild (MWG) is dedicated to encouraging excellence, inspiring creativity, and preserving fiber traditions by providing forums for the education of handweavers, handspinners, basketmakers, and fiber artists in related disciplines.
Established in 1947, We are now in our 66th year.  We are affiliated with the
Michigan League of Handweavers
and with the Handweavers Guild of America
Announcements
Next meeting is Saturday, October 18, 2014
Heather Macali, Wayne State University speaking on "Tradition and Technology"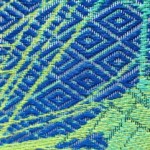 See calendar page for detailsHeather Macali is Assistant Professor of Fashion and Fibers, Wayne State University, Detroit, MI. She comes from a background as CAD Designer for La Senza and Hollister Dudes, designing underwear, sportswear, and other garments. She previously taught Off-Loom construction techniques at the University of Wisconsin-Madison and worked with Diane Sheehan to produce her weavings.