If you are selling anything over the internet – accept only cash unless you know the buyer.
For Sale – Added 2018.10
Glimakra 63 inch Standard Countermarch Loom
I have my one of my mother's looms. It absolutely will not fit through our stairway to the only room it could be set up in. Since this is the case, I need to sell it. It is a Glimakra standard countermarch loom (63 inch) in very good shape. New, it would cost $6,800 plus $575+ for shipping from Glimakra USA to my location, Traverse City. This totals $7375!   Thank you, Liz
Contact: Liz Elliott <tclizelliott@gmail.com>
For Sale – Added 2018.09
Schacht 25-inch rigid heddle loom with stand, 2 8-dent reeds, a carrying case, etc. that I just recently bought for sale (see photos). Cost to me was $575. In addition, I purchased 3 books on rigid heddle weaving for $85. So my total cost was $660.
I am offering the loom for sale by itself for $475 or, the loom and books together for $560.
Payment in cash and pickup by the purchaser.
For Sale – Added 2018.04
Germaine Smith has the following for sale:
spool rack- holds 20 spools  $20
Bexell floor warping reel  $25
wood swift $5
yarn winder, floor standing swift, each $5
wood slats for free
A lot of  weaving and knitting yarns
a lot of weaving books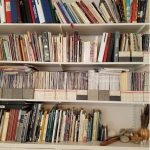 (586) 915-9008    blsbycbc@msn.com  She's located in Grand Blanc, easy to
get to.

For Sale – Added 2018.03
From: John Lundquist <Johnlundquist286@msn.com>
Subject: Leclerc for sale
8 harness countermarch for sale. Sectional Warp beam loaded with 50 yds.multi colored Warp. 2000lbs of 1 to 5 inch rolls of material. $650 call John at 413 717 5326. Manistee MI
For Sale – Added 2018.01
Trish Boyle <boyletrish@gmail.com>
Subject: Glimakra Band Loom for sale $350.00
Used once or twice. In excellent condition
Retail $399.00 asking $350.
Pick up in Ferndale, MI
The Bandloom is a traditional style of Scandinavian loom for making ribbons, decorative bands and belts. Today you can use it to weave narrow woven items like scarves and runners. You can weave up to 5 inches wide. The band loom has two treadles, leaving your hands free for easy weaving. The band loom can also be used for tablet weaving.
Features:
•100 8″ Texsolv Heddles
•24 Warp Sticks
•Lease Sticks
•Flat Shuttle
•Tie-Up Cord
•Height: 45″
•Footprint: 16″ x 36″
•Weight: 17 lbs.
SaveSave