UPCOMING WORKSHOP
April 19-20, 2018
'Collapse Weave Techniques on 4 and 8 Shafts' Workshop with Leader: Denise Kovnat
Workshop registration closed.
Contact Nancy Peck  to get on the wait list.  Denise will make the workshop warps and they will be available for pickup at the March 17, MWG meeting.  Please plan on picking up or make arrangements for pickup.
In Review:
February 17, 2018 
Speaker: Jeremy Noonan, 'Pattern Design Memoirs'
We had good attendance for Jeremy's talk about his work.  Below are some pictures from the presentation.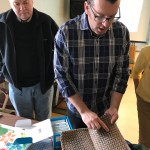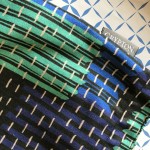 You can see other examples of his work at http://noonanstudio.com/Home
March 17, 2018
Speaker: Valerie Musselman, 'Crackle Weaving': Interaction of Color and Weave Structure in 8 Shaft Crackle Threading.
Bio:  Valerie has been weaving since 1980. "The thing that fascinates me most about weaving is working out 'the puzzle' of interlacement, the color interactions, and all the details that go into making an integrated cloth. I especially like to make complex looking fabrics with just a few shafts."

MEETING SCHEDULE:
11:00 AM Board Meeting
11:30 PM Social Time - light refreshments.  Bring your own bag lunch if you want.
12:00 PM General Meeting
12:30 PM Program
Peace Lutheran Church
17029 West 13 Mile Road
Southfield, MI 48076-7749

Looking for volunteers to bring treats to the March meeting.  If interested contact
Maxine Fontana
to let her know.
Planning Ahead:
April 21, 2018 Speaker: Denise Kovnat, 'Paint Two, Beam One'
LOOK WHAT I HAVE DONE Reminder
Bring your work to show to the next meeting.
Michigan League of Handweavers
20th Biennial Fiber Exhibit
Reception and Juror Talk
Sunday, March 11, 2018
1:30 – 3:00 PM
Shiawassee Art Center
Owosso, MI
Please join MLH on Sunday March 11, 2018 at 1:30 when JoAnn Bachelder will speak at the Biennial reception.  This is the last day of the show, why not come out and see the exhibit, take in the sights and enjoy some light refreshments with other MLH members.
2018 MLH Samples
MWG is due to provide samples for Michigan League of Handweavers (MLH) in 2018.   Sue Walton agreed to coordinate the effort.  The weaving is coming along. If you are so inclined to help weave please call or email. Sue 248-646-9725  or email – Contact Sue Walton .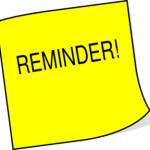 Next News Update Deadline is April 2, 2018.
Email any information that may be interesting to members to the:
Newsletter/Webmaster.