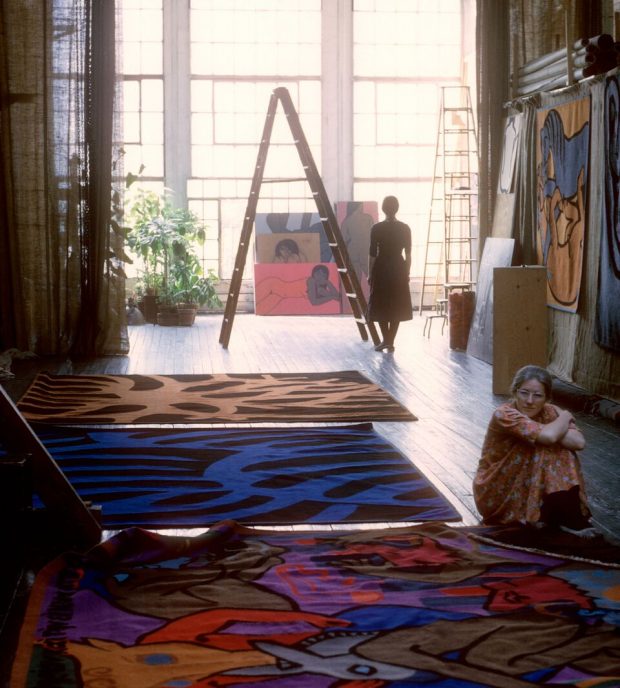 From: Debra Dean <debradeanbooks@earthlink.net>
Subject: new weaver's biography
"The teamwork demanded by the making of tapestries as
we practice it is one of the purest forms of romance and
personal fulfillment."
—jan yoors
I'm reaching out to the community of weaver and fiber artist guilds because I have a new book coming out this month about a tapestry artist that might be of interest to you. HIDDEN TAPESTRY (Northwestern University Press: April 15, 2018) returns to some of the themes that threaded through my first novel, THE MADONNAS OF LENINGRAD: the heroism of ordinary people in wartime, the mixed blessings of love, and the power of art to save us. This one tells the true story of one of the most important and fascinating textile artists of the twentieth century, Flemish American artist Jan Yoors—childhood vagabond, wartime resistance fighter, and Greenwich Village bohemian—and the two wives who shared his life and wove his magnificent tapestries.
In 1959 Art in America magazine nominated Yoors one of the new talents in the U.S.. He was twice chosen to represent the United States at the International Biennial of Contemporary Tapestries, in Lausanne, Switzerland. At the peak of his fame in the 1970s, Yoors' tapestries inspired a dedicated following in his adopted Manhattan and brought him international acclaim. Though his intimate friends guessed the rough outline of his colorful life, HIDDEN TAPESTRY is the first to detail Yoors' astonishing secrets.
If you think it's appropriate, would you share this with the other members of your guild and anyone else you think may be interested?
You can order a pre-publication copy of HIDDEN TAPESTRY from my neighborhood bookstore, Books & Books. And if you'd like me to sign and personalize the book to you or to someone else as a gift, I'd be happy to do so: just write instructions in the Order Comments field at the very bottom. It's free shipping and the same price but a better deal than Amazon Prime because it supports an independent bookstore. Or even better, you could ask your neighborhood bookstore to order a copy for you.
Feel free to get back to me — I welcome correspondence.
Good wishes and good weaving,
Debra Dean
EARLY PRAISE FOR HIDDEN TAPESTRY:
"Debra Dean puts the stitches in the rich tapestry that was Jan Yoors's life, surely one of the most remarkable artistic stories of the twentieth century. She reveals his incredible life of exploration, adventure, and heroism, as well as his truly unique ménage. I'm hugely impressed with her research and writing—and green with envy that she found such a fascinating subject to write about." –Ross King, author of Brunelleschi's Dome and Mad Enchantment
"Debra Dean has written that unique book that is scholarly, historically important… full of vibrant and fascinating characters, beautifully written, and somehow—almost improbably—true." —Ann Hood, author of The Book That Matters Most and The Knitting Circle
"It's rare when an extraordinary artist wins a biographer of equal quality. As someone who admired Jan Yoors greatly and once spent a few days in his unusual household, I'm delighted to see this story told with grace, with careful research, and with such compassion for the women who were an invisible part of his work." —Adam Hochschild, author of Half the Way Home: A Memoir of Father and Son, and King Leopold's Ghost
In Hidden Tapestry, Debra Dean dives into the artist's singular backstory and the equally compelling stories of his wives, Annabert van Wettum and Marianne Citroen. This is a well-researched, well-written, and unusual biography. . . There's a fascinating story here, and Dean tells it well. -Foreword Magazine
Debra Dean | Author | Hidden Tapestry
and The Madonnas of Leningrad
email: debradean@earthlink.net
debradean.com