MEMBERSHIP SALE
This year we are again having a membership dues sale.  Pay your 2018-2019 dues now through our September meeting for the rate of $20 year versus $30.  See Membership to pay online or to download a form to pay via mail.
Samples done by our guild were included in a recent mailing from the Michigan League of Handweavers.  The design was chosen to celebrate our 70th anniversary and was called Chromatic Texture in Harriet Tidball's Shuttle Craft Newsletter in 1952.  Colors were selected to show iridescence as a nod to the guilds workshop on that topic.   The effort was coordinated by Sue Walton and the weavers were Leigh Ann Mills, Loretta Oliver, Sue Walton and Cynthia Wayne.
Join Our Board
The Michigan Weavers Guild (MWG) is a volunteer organization.  It's success depends on the efforts and passion of fiber artists in Southeast Michigan.   Please consider joining our board.  Just attend the board meeting at our September Meeting.
2018-2019 MWG Board Members
Meeting Chair: rotates among board
Hospitality: Maxine Fontana
Housing: Susan Lolli
Membership: Joan Koelsch
MLH Representative: Karen Folland
Newsletter/ Webmaster: Susan Lolli
Programs: Nancy Peck
Publicity: Judy Boesky
Treasurer: Joan Koelsch
— Almost new Schacht 25-inch rigid heddle loom with stand along with Rigid Heddle weaving books.
PROGRAM
September 15, 2018  
Speaker: Tammy Renner, Vav Immersion: Sixteen Weeks of Textile Heaven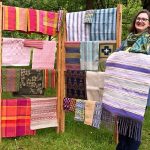 Description: Inspired by Marion Tuttle Marzolf's historical novel Shuttle in Her Hand: A Swedish Immigrant Weaver in America, Tammy Renner dreamt of finding a residential weaving school where she could totally immerse herself in textiles. At that same time, Becky Ashenden, a graduate of Sweden's Sätergläntan Institute of Handwork and known for her Vävstuga School of Swedish Weaving in Shelburne Falls, MA, imagined recreating the class she experienced in Sweden. In February 2016 their dreams merged with Tammy becoming one of six students in Becky's inaugural Väv Immersion class. Tammy will share her stories, highlights, and notebooks from her sixteen weeks in "textile heaven" as well as samples of Swedish textiles.
https://tammyweaves.wordpress.com
Tammy Renner– Throughout her childhood, Tammy found people to guide her as she learned to make potholders, knit, crochet, sew, embroider, garden, weave pine needle baskets and macramé. She enrolled in her high school's textile arts class and won two top sewing awards at the school fair.  Not knowing one could study textile arts as a profession, Tammy studied the other joys of her life – music, folk dance and elementary education.  Over the years she has shared her love of life, music, and textiles with children, parents, families and her peers.  After a trip to Scandinavia in 1999, she purchased her first loom, began weaving linen dishcloths and selling them at the Weavers Guild of Miami Valley's Winter Sale in Yellow Springs, Ohio.  While attending Vävstuga's first 16-week Väv Immersion School in 2016, Tammy wrote a detailed blog to share with her family and friends who helped her to follow her dreams. Her blog tammyweaves has been read by thousands of weavers in the U.S. and around the world.  Tammy lives in Ann Arbor, Michigan where she delights in weaving, teaching, gardening and encouraging others to live their dreams.
MEETING SCHEDULE:
11:00 AM Board Meeting
11:30 PM Social Time - light refreshments.  Bring your own bag lunch if you want.
12:00 PM General Meeting
12:30 PM Program
Peace Lutheran Church
17029 West 13 Mile Road
Southfield, MI 48076-7749
2018-2019 Schedule
Has been loaded to the Calendar page of our website. Please mark your calendars with the dates.
In addition, click on the box below to download a paper version of the schedule.
Coming Attraction
October 20, 2018  Speaker: Kayla Powers of Salt Textile Studios – "Small Business Marketing"
2018 SUMMER CHALLENGE SHOW & TELL

Bring your completed Summer Challenge piece to show.  The challenge was to use an image of a favorite place as inspiration for creating a fiber work over the summer.  If you are not done (or have not even started – you still have time)  Challenge results will be included (along with 2017's Summer Challenge, honoring MWG's 70thanniversary and/or Pantone's 2017 'greenery' color of the year and workshop results) for our guild's MLH Exhibit in 2019.
SHOW AND TELL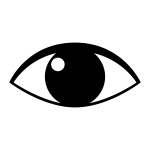 As usual – bring your textile creations to show to provide inspiration to the group.

Mushroom Dyeing Workshop
The Lake Charlevoix Weavers and Spinners are sponsoring a workshop on mushroom and lichen dyeing with nationally known mushroom expert, Alissa Allen. You are invited to join us at Lake Louise retreat center near Boyne Falls, Michigan for the weekend of September 28-30, 2018.  Space is limited.
Contact: Julie Hurd <jmbhurd@gmail.com>
Woven Rug Repair
From: Melinda S Long <melindalong8100@gmail.com>
Looking for someone who can repair my grandmother's woven rug. The end is beginning to unravel and I would like for the entire rug to be rewoven. I believe that the material is wool. Please contact me at melindalong8100@gmail.com or by my cell 517-812-8100. I have pictures that can be sent to you for review. Thank you,
Melinda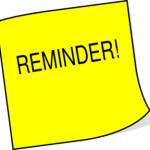 Next News Update Deadline is September 29, 2018. Email any information that may be interesting to members to the:
Newsletter/Webmaster.