WORKSHOP SIGNUPS
Our 2018-2019 Workshops are available for signup.
MWG Presents a Dye-Day Workshop
Saturday, January 19, 2019
"Weaving for Holes: Exploring Loom Controlled Laces" by Sue Walton
Thursday, March 14 – Friday, March 15, 1019
See our workshop page for additional information and instructions on how to sign-up.
Searching For New Program Chairperson
The Michigan Weavers Guild (MWG) is a volunteer organization.  It's success depends on the efforts and passion of fiber artists in Southeast Michigan.   Please consider tackling this assignment.  If interested contact Nancy Peck or attend our October board meeting.
2018-2019 MWG Board Members
Meeting Chair: rotates among board
Hospitality: Maxine Fontana
Housing: Susan Lolli
Membership: Joan Koelsch
MLH Representative: Karen Folland
Newsletter/ Webmaster: Susan Lolli
Programs: Nancy Peck
Publicity: Judy Boesky
Treasurer: Joan Koelsch
Member Summer Travels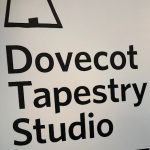 Did you travel somewhere this summer and encountered interesting fiber related places?  If so share them with the guild —  email Newsletter/Webmaster
Two of our members shared pictures of there experiences here :  Cynthia Wayne in Edinburgh and Susan Lolli in Quebec City.
PROGRAM
October 20, 2018
 Speaker: Kayla Powers, 'Small Business Marketing'

Description: Kayla will discuss her marketing strategies and the trials and errors encountered as a small textile business.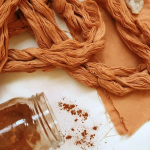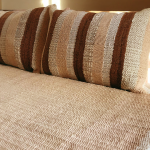 Kayla Powers is a weaver and has been practicing the craft for six year. Kayla studied Art History at Western Michigan University and while working at the Kalamazoo Institute of Arts, she became interested in textiles. Several floor loom weaving classes later, Kayla bought her own loom and has been on a journey to make this passion a sustainable pursuit.

Kayla spent two years living in Portland, Oregon and completed a six month Textile Internship at WildCraft Studio School. At WildCraft, Kayla learned about natural dyes and many other textile processes. Moving back home to Michigan and settling in Detroit, Kayla began Salt Textile Studios out of her home and has dreams of a tiny studio on the East Side of Detroit with space to grow flowers and a door to always keep open.   https://www.salttextilestudios.com
MEETING SCHEDULE:
11:00 AM Board Meeting
11:30 PM Social Time - light refreshments.  Bring your own bag lunch if you want.
12:00 PM General Meeting
12:30 PM Program
Peace Lutheran Church
17029 West 13 Mile Road
Southfield, MI 48076-7749
Looking Ahead
Thursday, November 15, 10am -noon: MWG Exhibit at Costick Center Setup
Download, complete and bring the inventory sheet with your labeled exhibit pieces to Costick for hanging.  We also need some images of work to share with Costick for PR purposes. Submit these images to njpeckmc@gmail.com.  When selecting your items for exhibit, consider whether they will be for sale or not. If NOT, please mark very clearly on the work. As a benefit of exhibiting, a few items are sold every year. Costick Center provides a gallery venue and publicity to MWG for our exhibit, a far larger contribution than the 30% commission from the sold items.
Friday, November 16: 6:30-8pm MWG Exhibit at Costick Center opening
Mark your calendars to participate and share in the excitement of MWG's Exhibit opening.
Costick staff is working with us on promoting the event Friday evening, 6:30-8p.m. MWG members are invited to bring treats to share. (no alcohol allowed). The evening will have traffic at the Costick Center as the Farmington Youth Theatre will be having a performance of 'Shrek the Musical' at 7pm.
Saturday, November 17: Speaker Susan Lolli: 'Fascination With Guatemalan Textiles'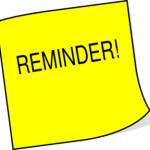 Next News Update Deadline is November 1, 2018. Email any information that may be interesting to members to the:
Newsletter/Webmaster
SHOW AND TELL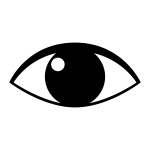 As usual – bring your textile creations to show to provide inspiration to the group.

2018 SUMMER CHALLENGE SHOW & TELL

Bring your completed Summer Challenge piece to show.  The challenge was to use an image of a favorite place as inspiration for creating a fiber work over the summer.  If you are not done (or have not even started – you still have time)  Challenge results will be included (along with 2017's Summer Challenge, honoring MWG's 70thanniversary and/or Pantone's 2017 'greenery' color of the year and workshop results) for our guild's MLH Exhibit in 2019.

Updated Schedule
You can see our revised schedule on our Calendar page or download a revised schedule here:
In Review

Some pictures from the presentation by our September speaker: Tammy Renner – Vav Immersion: Sixteen Weeks of Textile Heaven" can be found at the following link.  2018 September Meeting
— Glimarka 63-inch standard countermarch loom